Editor's Pick
One Epic Summer with Dieter van der Eyken: "Tenerife spoiled us this year with some of the best conditions I have had since I moved to the Canaries."
Latest Windsurfing Stories
Tonky Frans with fresh freestyle-wave windsurfing action from Lac Cai, Bonaire. Tonky is still in great shape and lands some of the latest freestyle moves.
Load More Posts
Tweets by @Continentseven
Lovely Holiday, that's the right description for the last travel trip of Oda Johanne & Sarah-Quita Offringa. #Sardinia #Munich #watersport #surfing #skateboarding #waves #windsurfing #italy #sabarra #fun @Sa_Barra https://www.continentseven.com/lovely-holiday-germany-italy-with-oda-johanne-sarah-quita-offringa/
It's competition time at Jaeger Stone's home turf: the Coronation Wave Comp just happens in WA. There is now a $1000 prize money up for grabs... #geraldton #westernaustralia #waves #windsurfing #coronationbeach #windsurfingwa #Competition
Twitter feed video.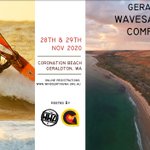 Load More...
Continentseven Interviews
The young Italian windsurfing board company AV Boards was working hard towards 2020 but then Corona came. But they still have high hopes for the season. Read more in our latest interview.