Saint Barth Cup 2013 – Video
St.Barth is a litttle island in the Caribbean in between Saint Martin and St. Kitts next to Puerto Rico. Less than 10.000 people live on this beautiful islands, which often is a location for sailing regattas or photo shootings. Beautiful beaches, crystal clear waters, palm trees. Just like in paradise. 
Actually Arnaud Daniel runs the Saint Barth  Fun Cup and big names registered for this competition. Björn Dunkerbeck, local Antoine Questel, who spends the whole winter on the island, Delphine Cousin, Sarah-Quita Offringa, Taty Frans from Bonaire, Pierre Mortefon or Camille Juban from Guadeloupe.
Day 1 saw some races in very light conditions and Antoine Questel, who was definitely  in suberb form. Antoine is the local and knows best what gear to take and where to get the important gusts of wind. On his heels feder weight and world class freestyler Taty Frans from Bonaire, in third Pierre Mortefon and actualy in fourth 41 times world champion Björn Dunkerbeck. Top placed lady is Delphine Cousin in 9th.
Check out the latest shots of Chrystéle Escure:
Watch a video of day one produced by © Théo Reynal and don´t miss the aeroplane at the end of the clip, which almost touches the beach when landing.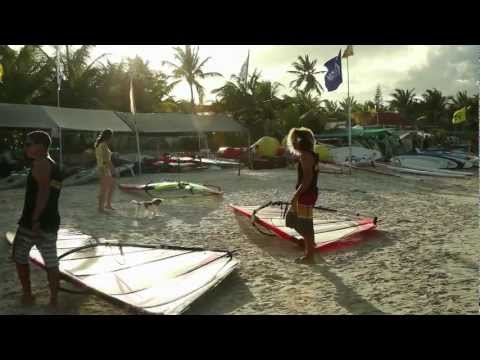 © St.Barth Cup 2013/ Théo Reynal, Chrystéle Escure
Latest & Best Videos: