Home » Backstage
Merry X-Mas 2012
We wish all of you who are celebrating Christmas a Merry Christmas and happy holidays. How do the windsurfing stars celebrate and what is on their Christmas list? We asked some of them, but first watch Björn Dunkerbeck and his son Liam, who are wishing all of us "Feliz Navidad".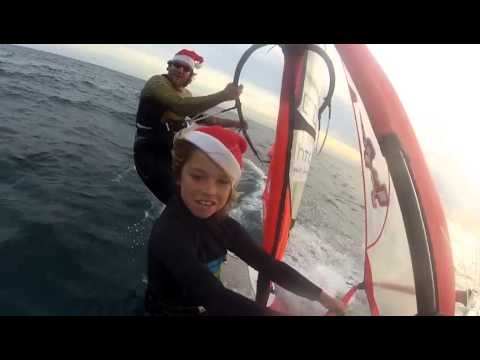 Robby Swift will be in Chile
"I will be celebrating Christmas in Chile this year with Heidy and her parents, sister and nieces and nephews. We will go surfing in the morning and the forecast is great for wind in the afternoon so hopefully I will be on the water most of the day?
Then we will have a BBQ in the evening and jump in the hot tub.
My christmas wishes are good health for myself, my friends and family and to be able to have another exciting year next year. Hopefully with some much better results on the world tour and some new events.
Merry Christmas to all the readers of Continentseven!"
Steven van Broeckhoven will be back home in Belgium
"Christmas I celebrate at home by my parents and family. I arrived back home on the 24th in the evening,  just in time for the Christmas table. I had delay from Brazil to connect a plane in Lisbon to home, but we (me and Sveta) just made it. After a long trip, shower and at table for the feast. Next day I'll visit my grandparents (long time not see). The rest of the week I must make all the papers allright for the accountant, which my parents already did I hope. Sunday December 30 th we are going to leave to Cape Town for 8 weeks as preparation for the next season. So my whishes for 2013 are well-being for all people that I know. For my sport, I' ll do everything I could do to be again Worldchampion in Freestyle and also hope for more events than last year."
Kevin Pritchard will be in Austria
"I just celebrated my Christmas present in Cabo Verde where we scored some pretty fun wind and waves and now I get to spend Christmas in Austria in Sölden snowboarding with Resi! My wishes for next year is to do it all over again. Each year turns into the time of my life so I just want it to keep going the way it has been. I couldn't be much happier!"
John Skye will be on Gran Canaria
"The way things work out at the moment I get pretty much three Christmas days. Firstly with my family, we always make an early Christmas. Its too expensive to fly during the holidays, so we make it early. Our Christmas day this year was the 16th December, with full presents, dinner and everything. Next is obviously the real Christmas day and then lastly here in Spain, they celebrate the 3 kings day on the 6th, which again means more presents and more eating! 
Next year will be pretty special since we now have a little daughter to come along with us. It should make all the usual trips a bit more interesting. I guess I am just hoping we can make it work smoothly and get to enjoy both sailing and the family all together. Lets see how that works out!"
Josh Angulo will be in Boston
"I'm here in Boston with my wife Claudia , son Noah, daughter Danielle, our Cousin Nea with her daughter Lyla and a new baby  boy about to born any day now. We are enjoying in the typical American fashion with presents and food preparation for a celebration on the night of 24 and morning of 25.
However, amongst all the lights, decorations and shopping etc. I try to take the time to reflect for myself and also share with my family that the reason for the season is Jesus Christ and His birth into this earth was the beginning of the end of evil. So really it is a great time of celebration as Jesus was born, lived , killed and then rose again to release us from our sins.
God Bless and Merry Christmas to all!"
Dieter van der Eyken will be in Brazil
"Christmas I always try to celebrate with my parents, this year they flew over from Belguim to Brazil to have their 2 weeks holiday here which makes me able to train a bit longer in Brazil. My wishes for christmas is to have a good session on the water with friends and when I look to the forcast it's going to be a long day of sailing!! Also for all the other windsurfers out there I wish the same, that they can do what they love to do. Looking to next year I wish for more attention from the media to windsurfing world wide to get the sport the attention it deserves and give it another boost. Besides that I wish good health for everybody and a lot of magical sessions!!"
 Iballa Moreno will be in Fuerteventura
"I will spend Christmas in Fuerteventura and new years evening with my family in Gran canaria. Sailing and surfing with SUP. I live in paradise!:)
 Wish to have another great year of wind and waves! Health and happiness!;)"
Leon Jamer will be in Germany
"I am going to spend Christmas back home with my family. My biggest wish is, that the new year starts with a massive north Atlantic swell that hits Cape Verde just perfectly!"
Victor Fernandez will be in Spain
"I celebrate Christmas with my family at home. I just wish to be healthy and keep on windsurfing."
Sean O'Brien will be in Australia
"Christmas in Australia is a bit different to the northern  hemisphere; it's usually our HOTTEST day of the year! The forecast is for +33 degrees (the year before last we had +41 degrees!) tomorrow and in Aussie tradition we'll have a big BBQ at my parent's house with all the family, sitting out in the backyard in the hot sun with a few cold beers and a roast turkey for lunch. The week during Christmas to 1st January 2013 (NYD) is usually one filled with lots of action. Plenty of music festivals, beaches, sporting events and of course the massive New Years Eve celebrations will take place as nearly the whole country takes this week off of work. I'm hoping to spend New Years Eve down in Sydney to see the biggest fireworks show on the planet looking out from the Sydney Opera House. It's usually also a great time to get on the water as we get plenty of summer winds each day! I'm looking forward to a slight change in direction in 2013, still plenty of windsurfing and touring but new adventures are on the horizon. G'Day to everyone from Downunder!"
Timo Mullen will be in Cape Town
"This year I am in Cape Town with my family, we'll be spending XMAS day by the pool unwrapping presents then with any luck going wavesailing or surfing with all the other lucky windsurfers out here!
My wishes for XMAS are that my kids sleep in their own beds for once and i get lucky with my wife!!
For the upcoming year I hope Svein diverts the SUP team rider budget to windsurfing!"