Heading South Project – News
Marco Lang and Gonzalo Costa Hoevel created the travel project "Heading South". It's a trip across Argentinia down to Patagonia. Gonzalo lives in Buenos Aires, where 13 million people live, too. Marco, who recently made it in the International North Sails team, travelled with his film crew –  consisting of Stefan Csaky and Matthias Zimmerman and some hundred kilograms of excess luggage to Argentinia in the beginning if January. PWA photographer John Carter joined them during their trip, too. They are working on movies for the TV and internet and as well will release stories in magazines and in the internet.
Gonzalo welcomed Marco and the crew and some hours later they sailed on the Rio Plata in front of the Skyline of the South American Mega City Buenos Aires. The Rio Plata is the homeground of Gonzalo, where he prepares for the races. Due to the steady winds it's an excellent spot for racing.
Afterwards they drove to Cuesta del Viento, an artificial lake located nearby San Juan and the almost 7000 m high Andes. The lake is in a distance of 1200 km from the capitol Buenos Aires, 1280 m above sea level. They had a good session there with ok wind. But the wind can get really strong there with 50 knots+. Then you wish to have your 3,7 m ready.
They continued their trip in southern direction directly afterwards. After a 2000 km long drive with their pickup they arrived at Bariloche located at the Nahuel Huapi Lake. It's the so called Switzerland of Argentinia. The landscape reminds a bit of Switzerland, but as well it looks like the country of American Indians. It's a green area and steady winds blow from the Pacific coast over the lower Andes.
The lake offers great freeriding conditions and when it gets really strong it's possible to ride breaking waves on the Nahuel Huapi. The lake is 460 m deep and stories of the Indios tell that Nahuelito, a big monster lives inside the deep blue jewel.
Now the two PWA Slalom sailors, the filmcrew and the photographer already drove further south to Patagonia – around 800 km from Bariloche – to windsurf on the Perito Moreno glacier lake. It's a famous place as our friend Thomas Miklautsch sailed there several years ago as the first windsurfer and was lucky to not get killed by the ice of the calving glacier. Be careful boys and don't risk too much, especially during midday hours, when the sun is strong. Here is the video of Thomas, who almost risked too much these days. It's one of the most viewed windsurfing clips on Youtube.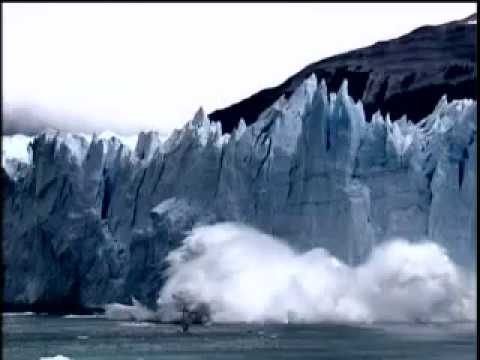 Get more infos about the project Heading South here