New Fanatic Teamriders 2013 – News
A few days ago Fanatic announced the addition of Leon Jamaer (23) to its international team.  "It´s great to have Leon in our Fanatic International team now. If you ever had the chance to watch him free sailing in pretty much any conditions, your first reaction would be: "that guy is nuts". When he sails he just goes for it 200% and the energy on his moves is unbelievable. Together with Alessio Stillrich, Arthur Arutkin and Noah Voecker-Roche, we are building our next wave generation to follow in the footsteps of Victor Fernandez and Klaas Voget," says Craig Gertenbach. 
Watch also Leon's tweaked Pushloop, which made it in 6th position in the 2012 ranking of the most viewed moves on continentseven here.
After adding Gran Canaria hot shot Alessio Stillrich (17), Arthur and  Alice Arutkin and Maxime van Gent, Leon Jamaer is the 5th addition to the team and these young guns lower the average age of the Fanatic team, which is 26,5 now. 
All of them are very young and have a bright future. 15 year old Arthur has great skills in wave sailing, jumping and surfing and already participated at several PWA events. Alice is a great racer and gets better and better in waves. She is just at the beginning of her career, too. With only 16 years, Maxime van Gent is very talented in freestyle windsurfing and she will get some coverage for sure. Earlier in the year, 17 year old Pozo local Alessio Stillrich, who has now a German sail number (G-95) got added to the team. He is probably one of the most promising upcoming wave sailors, especially in side onshore conditions. He will participate in the photo shootings on Maui for the very first time of his career. 
Arthur Arutkin on his new gear: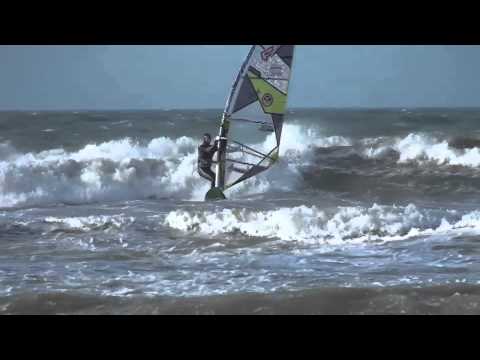 Craig Gertenbach, Fanatic Brand Manager: "All riders are great additions to our existing team. Leaving our International Windsurf Team 2013 will be Gonzalo Costa Hoevel (32) and Yarden Meir (31) – we wish them all the best for the future. I´m happy to welcome Arthur, Alice and Maxime to our Fanatic International teams. Maxime is a really talented Freestyler and Paddler and her youth and personality are a great addition to our team. Women´s Windsurfing and SUP are both really attractive to the media and she personifies the spirit of both sports! Arthur is one of the most talented youngsters in the French Windsurfing and SUP scene, we have high hopes to be a part of what promises to be an outstanding career. Alice is already established as a World Class Windsurfer with top results. We are proud to have her joining our team and look forward to welcoming the Arutkin family aboard!" 
"I'm happy to be with Fanatic now. What I'm really looking forward is to train with my new team mates like Victor, Klaas in Windsurf or Olivia and Yoann in SUP in different spots, but also to meet the rest of the Fanatic team and being part of it to promote this fantastic brand. I will work hard this year, but also have a lot of fun on the water!" Arthur Arutkin (FRA-1111)
"I really would like to be in the Top 3 in the PWA and this year I would like to get the first place In the French Championship and with Fanatic boards I for sure have the right tools for that! I´m glad to be part of the team together with my brother now, we for sure will try our best to promote the brand as good as we can as a package!" Alice Léa Justine Arutkin (FRA-111)
"I'm very excited to be in the Fanatic International Team. I hope I can make women windsurfing more attractive again and will love to promote it all over the world and Fanatic for sure has the right boards for it! Fanatic also has the image to support their riders and I will be happy to be part of this great team. I will do my last year in high school now, but as well competing in the PWA Worldtour and also doing clinics for kids and girls." Maxime van Gent (NB-22)
Have a look at the full 2013 Fanatic International team here
GD Star Rating
loading...