Lüderitz Speed Challenge 2012 – Report by Nick Vardalachos
Nick Vardalachos (GRE-800) is the fastest Greek Speed Windsurfer and the 5th fastest sailor in the world. He set his new personal record with 50.56 knots at the channel of Luderitz, Namibia in November 2012. He is now among the fastest windsurfers in the world as a non full pro sailor. Read his thoughts and feelings about his favourite windsurfing discipline and the event in Lüderitz, where Antoine Albeau (FRA-192) has set a fantastic new world record with 52.05 knots on 500 meters and a top speed above 100 km/h with 100.26 km/h.
The perspective of a non full pro sailor…… 
by: Nick Vardalachos
Speed windsurfing was and will always be the discipline of the sport that has the less full pro sailors. This is happening for various reasons, but the main conclusion is that most of the guys, who compete in speed, do not have the sponsorships and the support that PWA riders get, no matter of their results. However the passion, the commitment and the dream of a huge personal best result always keeps motivated many sailors around the world.
Luderitz came into the Speedsurfing world in 2007 as a venue for kitespeed and proved to be THE place for it. Every single year, the outright world record was broken again and again. Sebastien Cattelan and Sophie Routaboul were developing every year something over and over again to be able and get the kite speeds into 55kts of speed average in 2010. That year was the year that speed windsurfing got the chance to wake up again and get into the game. 2011 was the testing year for the new CANAL and Anders Bringdal proved that windsurfers are so hungry for higher speeds.
Luderitz 2012: During the first week almost every speed windsurfer was stuck in front of his computer to check what's going on with the weather- and windforecast. The first two windy days proved that this event is going to make history for the sport. Zara Davis smashed the women's world record with 45,83 knots and made many guys cry. Many national records got broken over and over again. Second week and the 50kts barrier is finally broken for the windsurfers. The whole windsurfing world saw new records almost every day and personal bests from every single sailor in almost every run and smiles all over the place.
The feeling going down this channel is something simply amazing. Feeling the acceleration, the gear and your body on the edge of crashing or not and then trying hard to stop safely. After each fast run, and almost every night going to bed makes you think that all the time of hunting forecasts, travelling all over the world, investing on gear, testing, getting disappointed, getting injured or getting frozen to wait for the gust of the day is not wasted time after all. And all these is proved by all the speed sailors no matter if they're kiters, windsurfers or boat sailors. As a non full pro sailor, getting an average speed of over 50kts and beating some pro guys can only be described as a dream. And that can only happen in Speedsurfing.
See you next year on a speedstrip.
Nick Vardalachos, GRE-800
Watch the video with exciting Lüderitz channel speed action: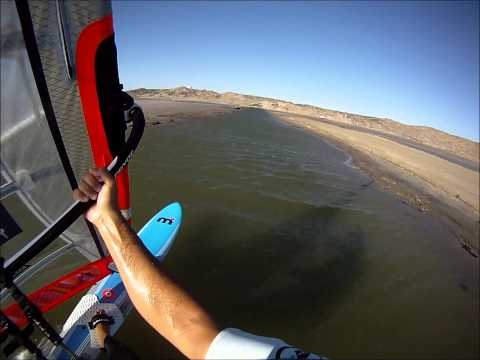 Top ranking ratified through the WSSRC after the event in Luderitz, Namibia 2012:
1. Antoine Albeau 52.05 knots (=World Record 500 m) (RRD/NeilPryde)
2. Anders Bringdal 51.45 knots (Mistral/NeilPryde)
3. Jurjen van der Noord 51.26 knots (Starboard/Severne)
4. Björn Dunkerbeck 51.09 knots (Starboard/Severne)
5. Nick Vardalachos 50.56 knots (Mistral/NeilPryde)
6. Patrik Diethelm 50.49 knots (Patrik/Loft)
7. Cedric Bordes 50.23 knots (Tabou/Gaastra)
Best ladies:
Zara Davies 45.83 knots (=World Record 500 m) (Mistral/Simmer)
Lena Erdil 45.74 knots (Patrik,/Loft)
© continentseven.com 2012, Nick Vardalachos, Pierre Bisson, Eric Bellande
GD Star Rating
loading...
Latest & Best Videos: